RECAP ON JANUARY EVENT
Mitoworld has hosted and co-hosted a few events in the past with different projects and organisations. Our last event was a month back where we ushered in the new year with local NFT communities such as KaijuKingz, Azuki, XORE, Avium, 8SIAN, Project Redacted and more! Here's a short clip of how it went:
We aim to host events every month with different communities, projects and organisations to bring more variety for our participants.
UPCOMING FEBRUARY EVENTS
For February, we are focusing on education to raise awareness on the utilisation of metaverses in business and marketing settings. If you are interested, click on the links below to register for FREE today!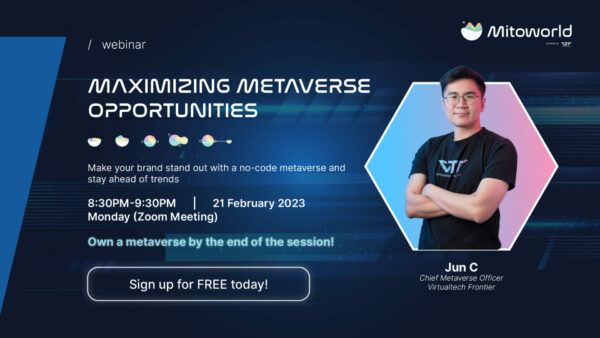 Join the webinar as we cover the basics of the metaverse, and how companies can use it to maximise their online presence using Mitoworld. Details as below:
Date: 21 February 2023, Monday
Time: 8:30PM – 9:30PM
Zoom link: will be sent via e-mail
Register for FREE : https://www.eventbrite.com/e/535443835927
WORKSHOP: How to Build Your Own Metaverse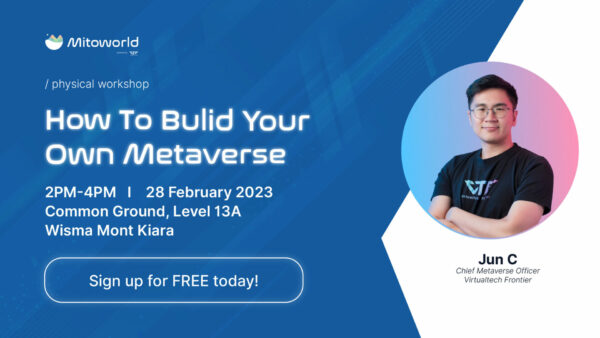 We will be having a physical workshop where our team of Metaverse Specialists will help guide you step by step on building your own metaverse with Mitoworld. Details as below:
Date: 28 February 2023, Tuesday
Time: 2:30PM – 4:30PM
Venue: Common Ground, Plaza Mont Kiara
Register for FREE: https://www.eventbrite.com/e/548202417187
*Make sure to bring your own laptop for the workshop
Written by Gabriella

Follow our socials today to keep up with Mitoworld updates!